Certificate in International Tourism Management
Home ›
Tourism ›
Certificate in International Tourism Management
Program Description
Looking for training in tourism?
In the Rhône Valley, France, among vineyards close to the ski slopes and not far from the Mediterranean sea?
To acquire skills in the production and marketing of tourism products.
To develop skills for strategic tourism and hospitality management.
To acquire the skills and expertise to develop tourism products.
To learn about the trends and skills needed in the tourism industry.
The answer
Certificate in International Tourism Management
French art de vivre in the Rhône Valley
One semester after which you will be able to manage general skills (Tourism finance management, web marketing, processing of statistical surveys, French as a foreign language), but also specialised skills, such as oenology, (wine tasting and marketing), gastronomy, event planning.
A place
Where you can find some of the best wine makers(Chapoutier, Delas, Jaboulet, La Cave de Tain...)
Where some of the best gastronomic restaurants (Maison PIC, Chabran, Kléber, Chartron...) are settled.
In the heart of Ardèche,the Pont d'Arc Cavern, the largest decorated cave replica in the world features a collection of paintings, drawings, and engravings reproduced from the Chauvet Cave, a UNESCO World Heritage Site.
With its 125km of slopes, the Villard / Corrençon resort offers the largest downhill skiing area in the Vercors.
Training
300h, a semester completely delivered in English, open to every student having passed a year 2 University level.
This training is conceived as
-a door open for students in tourism after their bachelor's degree, or before
-a specialisation for students coming from language or business training programmes
On completion of the programme you will have developed management skills in:
Tour guiding
Wine marketing
Law of product or food/wine labelling
Cross-cultural Communication
Information Technology
Business (marketing, human resources, management, enterprise development)
Business Planning/Project Management
Event management
French language skills
Taught by specialists (Company professionals for business-specific skills, University lecturers and researchers or visiting professors, for broader topics), using the well-known teaching excellence of the French "Instituts Universitaires de Technologie" IUT).
As following
Courses and modules
ECTS
Hours
GENERAL SKILLS and KNOWLEDGE
Language Skills
French as a Foreign Language
Fundamentals of Management and Marketing
Tourism Finance
International Marketing

4

4
72
36


18
18
BUSINESS SKILLS IN AN INTERNATIONAL ENVIRONMENT
Web marketing and digital tourism
Cross-cultural management
Business Law and the EU legal environment
Communication across cultures
5
54
18
12
12
12
THE TOURISM INDUSTRY: PRODUCTS AND SERVICES
Tourism and Economy : The Economic Geography of Tourism
Tourism and Societies: Culture and Sociology of European Countries
Local Cultural Tourism: Gastronomy in South-Eastern France (Rhône-Alpes region)
Local Cultural Tourism: Oenology in South-Eastern France (Rhône-Alpes region)
Tourism and the Hospitality Sector : French Specificities in a Global Environment
Quality Certifications
8
84
12
12
18

18
12
12
PROJECT TOOLS and METHODOLOGY
Marketing Practice: Conducting a Market Survey
Event Planning / Services Marketing
Applied Statistics and Quantitative methods
Case Studies and Project Management
Business Applications and IT Skills
5
60
12
12
12
12
12
INDUSTRY PROJECT / WORK PLACEMENT
Project management / Organisation of a Field Trip /
Industry Research Project / Event planning
4
30
Total
30
300
Calendar

This training programme will first be delivered in the Spring Semester 2017 (beginning in January).
It will then be delivered every year during the Fall Semester (starting as from September 2017)

Our partnership

This certificate is based on a partnership with Karelia University, Joensuu, Finland, with student and staff exchanges and ongoing activities and projects.
So, for the first time in 2018, it will be possible to continue, after the fall semester in Valence, with a Spring Semester in Joensuu (in order to complete a one-year training).

Conditions to apply

Having passed a year 2 in any training programme: tourism, business, hotel management studies,languages...

<li>A minimum TOEIC score of 600 points) is required for non-native English speaking students</li>
<li>The cost is &euro;1,500  per semester</li>
<li>Free of charge for Erasmus students</li>

Accommodation: student halls nearby

Please contact:Nicolas Robert,head of the degree nicolas.robert@iut-valence.fr
Claire Bénéfice, Erasmus coordinator claire.benefice@iut-valence.fr
Last updated Jan 2018
About the School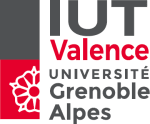 As a part of the Institut de Technologie de Valence, and inside the University Grenoble-Alpes, the certificate of Tourism
As a part of the Institut de Technologie de Valence, and inside the University Grenoble-Alpes, the certificate of Tourism
Read less