Advanced Certificate in
AVIATION ELECTRONICS / AVIONICS TECHNOLOGY / AVIONICS CERTIFICATION
Caribbean Aviation Training Institute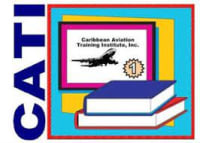 Introduction
Our Avionics Course is allied and complements the Aviation Mechanics course. Titled AVIONICS TECHNOLOGY or Air Navigation Instrumentation (Electronics) Technology, this 16-credit / approximately 32-week professional program is a combination of A&P mechanical instrument diagnostic and repair training. This program is dedicated to those who are interested in going one step further or expanding their knowledge in the career of Aviation Mechanics. Our program is approved by the Department of Education, Accredited as a School of Excellence by ACCSC, and Certified by the agencies that direct Aviation Electronics worldwide as AEA / NCATT / ETA-I. The Pell Grant and GI Bill certify approval by US Federal agencies.
Our program includes topics such as electrical circuits, digital circuits, optical fibers, test equipment, microprocessors, diagnostics, repairs, and harness installations among others. The program also covers future digital and satellite technologies, all kinds of communication instruments, and air navigation.
Our AVIONICS TECHNOLOGY is designed so that you can obtain over 12 aviation electronics licenses to be able to work as Avionics Technician immediately as well as combined with our Airframe & Powerplant Program you qualify to be Aviation Mechanics Assistant with a concentration in Avionics. Remember that only the A&P mechanic is the only one who can work on the aircraft and our resume creates the best possible candidate to be able to work with the aircraft and its instruments!