Associate Degree in
Communications and Fine Arts Division Home
Connors State College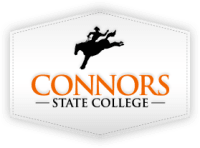 Scholarships
Explore scholarship opportunities to help fund your studies
Introduction
The Communication and Fine Arts division includes English, Speech, Humanities, Journalism, Foreign Language, Music, and Art. Many of these courses are the basic courses for the General Education program and the cornerstone courses for the Arts and Letters Degree.
Students at Connors State College will enrol in at least four courses in the division – English Composition 1113, English Composition 1213, and your choice of two courses for humanities credit.
The division's annual publication, the Kaleidoscope, an anthology of poetry, fiction and photography, provides a unique opportunity for Connors' students, faculty and staff to express and demonstrate their creative talents.