Associate Degree in
Associate Degree in Interior Design
Davis College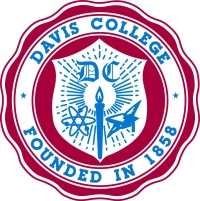 Introduction
Do you have an eye for color, space, and style? Are you a creative, detail-oriented individual looking to turn your talent into a rewarding career? Davis College's Interior Design program puts you on track towards a brighter future in a short period of time.
Become an Interior Design Professional
Interior Designers work closely with architects, civil engineers, mechanical engineers, and construction laborers and helpers to determine how interior spaces will function, look, and be furnished. They make indoor spaces functional, safe, and beautiful by determining space requirements and selecting essential and decorative items. They also read blueprints and must be aware of building codes and inspection regulations.
Four Day Week
Davis College supports your life schedule, which is why classes only run Monday through Thursday. By having a shorter class week you can balance your schedule more easily, letting you focus on completing your program. You can relax knowing that you have an extra day every week to accommodate whatever obstacles life throws your way.
Reasons to Choose Davis College
Accredited by the Higher Learning Commissions
Career-focused programs to develop marketable skills and knowledge
Small-size classes provide more Attention and Comfort
Hands-on experience through an externship with local business
Peer mentoring and leadership development programs
Seamless university transfer pathways
Active student life on campus
Four start dates throughout a year offer great flexibility
Center of Toledo Downton, within 40 minutes to Detroit Metro International Airport
Why Accreditation Is Important
When you attend an accredited institution, you are attending a school that has undergone a rigorous process that evaluates educational quality. It's not easy to become or remain an accredited institution. The rules and regulations are strict, precise, and designed to protect students. Here are some of the benefits:
A reliable indicator of quality
Approved program of study
Qualified instructors
Recognition by employers nationwide
Davis College has a long history of excellence, beginning with its founding in 1858. Among the first to be accredited by the Accrediting Commission for Business Schools in 1953, Davis College continues to excel in career training by being recognized by the State Board of Career Colleges and Schools (State of Ohio Certificate of Registration No. 81-02-0731B), having its programs authorized by the Ohio Board of Higher Education, as well as being continuously accredited by The Higher Learning Commission (HLC) since 1991.
Scholarships and Funding
Financial Aid Support
Career training is one of the most valuable investments you can make. Davis College helps by making this process easier. Our Financial Aid advisors will work with you to build a plan of how you can find your education. They will help you determine your eligibility and provide options for a Federal Pell Grant, student federal aid options, the Davis College plan, and more.
Career Opportunities
Exciting Career Opportunities
Once you've completed your training as an Interior Design professional, you will have the skills to pursue a variety of rewarding careers, including,
Interior Designer
Kitchen and Bath Designer
Healthcare Designer
Residential Space Designer
Interior Designers are able to work in a variety of industries, and many even start their own businesses or do freelance work, which allows for flexibility.
How Davis College Prepares You for Success
The Interior Design Associate Degree program is designed to prepare you for positions within the interior design profession. This program integrates problem-solving abilities, aesthetics, technical skills, and communication skills in planning and designing interior space.
During your Interior Design degree program, you will cover a variety of topics in many interesting and engaging courses, including,
Drafting Techniques
Computer-Aided Drafting and Design
Textiles
Space Planning
Color Principles
At Davis College, you won't be alone. Throughout your program, you will be given exceptional support from your instructors who will help to put your best foot forward into the job market.
Externship and Career Services
Near the end of your training at Davis College, you will complete an externship, giving you the workplace confidence you need to pursue your career goals. Your externship will let you apply your new Interior Design skills, and help you gain relevant work experience.
Davis College is dedicated to your employment success and provides you with resources to help you achieve a rewarding career. The Career Services Office is your link to the Toledo business community. You will have access to resume writing strategies, portfolio development, job search techniques, and more.