Courses in
MEDIA ARTS & DIGITAL TECHNOLOGY
Fulton- Montgomery Community College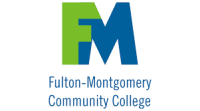 Scholarships
Explore scholarship opportunities to help fund your studies
Introduction
This program offers a unique opportunity for students to learn software skills for today's innovative and creative merging digital technologies.
The program provides a fluent understanding of digital illustration, graphic design, packaging design, digital publishing, branding, digital photography, and studio photography.
Students explore advertising, marketing and business concepts. Graduates acquire digital problem-solving skills for a variety of work flows across current media and social media platforms.