Certificate in
English Skills for Graduate Students
Georgetown University School of Continuing Studies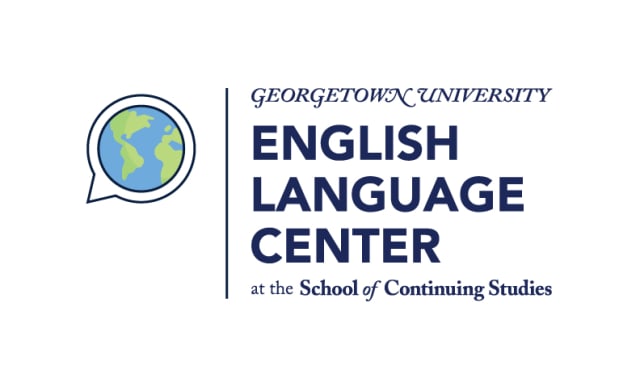 Introduction
English Skills for Graduate Students
Georgetown's English Skills for Graduate Students is a three-week course open to non-native English speakers who have been accepted into a U.S. graduate program. Designed to reactivate your study skills and increase your readiness for graduate-level coursework, this course will prepare you for success in your academic pursuits. You'll develop practical techniques and effective strategies for communicating in a fast-paced environment, navigating an American classroom environment, and working with large amounts of information.
Ideal for Students accepted to a graduate program
Duration: 3 weeks
Tuition: $2,576
Enrollment: Full time, Monday–Friday
Program Start: July
Visa Support: Yes
You'll improve the following skills throughout the program:
Reading large volumes of writing more efficiently.
Understanding rapid speech, unfamiliar accents, and idiomatic language.
Negotiating project ideas and plans in a group setting.
Writing clear analyses of case studies.
Researching and presenting case studies.
Delivering planned and unplanned oral presentations.
Curriculum
This three-week course is intensive (4-5 hours per day) and requires a full-time commitment to attending all classes and team meetings and to completing out-of-class assignments during the course. The course simulates the workload that you will be expected to handle in graduate studies.
Classes will meet for three weeks, Mondays through Fridays, from 9:00 a.m.–4:00 p.m. This is a noncredit course designed to prepare incoming non-native English speakers for graduate-level course work and study.
You'll learn and practice techniques that will help you manage the heavy study load of graduate-level courses. Activities include analysis, discussion, and presentation of case studies and related readings; team projects and group interaction; gathering information efficiently from print/online sources; and processing information from lectures and group discussions. Emphasis will be placed on improving the following skills:
Speaking skills, both impromptu and planned.
Listening skills in a variety of areas, including lecture situations with note-taking and group interaction activities.
Managing a daily heavy reading/assignment load.
Reading/preparing assigned texts (e.g., journal article/textbook chapters, cases, and other support texts).
Reading with fluency and efficiency as required by the task and text.
Completing tasks to demonstrate completion and comprehension of assigned readings.
Responding to cold calling as comprehension assessment in class.
Participating interactively in classes, group discussions, and team meetings.
Delivering oral presentations.
Writing short reports/summaries.
Developing awareness of formal writing tone/register.
Giving credit to outside sources, both in written and oral work.
Listening to lectures/lecture segments and class discussions and taking effective notes.
Thinking critically about readings, information from text and audio sources, and making connections across texts and to own culture.
You'll also learn how to use appropriate formal English to express ideas orally and in writing, and gain exposure to a system of documenting source material in order to prevent plagiarism.