Associate of Applied Science in
Information Technology (IT) Program, A.A.S.
Guttman Community College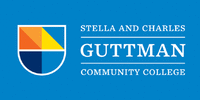 Scholarships
Explore scholarship opportunities to help fund your studies
Introduction
Using interdisciplinary and experiential approaches, the Information Technology (IT) Program lays a solid technological and digital knowledge base leading to further study and professional advancement in this competitive field. Students work with outstanding faculty to demystify and navigate the world of technology, envisioning their futures in IT. Blending theory and practice, the inclusive, high-impact curriculum ensures students' consistent opportunities to experience and apply the information and skills they acquire.
IT majors explore and learn fundamental aspects of web design, database management, programming, security, communication networks, and more. In addition to identifying the structures and functions of various multimedia systems, students expand their abilities to select, create, apply, integrate, and administer them. Complementing curricular emphasis on applied knowledge, the Program provides students with exciting opportunities and essential support for internships and certification.
Innovative and applied learning and valuable practical experiences develop student familiarity with the industry, giving them an edge in their continued IT education and enhancing their job qualifications. Thus equipped with information, skills, experiences in the workplace, and industry certifications, IT graduates are poised to thrive upon transfer to a baccalaureate program and entering an intellectually and financially rewarding career.
Upon successful completion of the Information Technology program, students will be able to:
Apply the principles of database management, computer and data communication networks, security, programming, web technology, and software development to a given information technology problem;
Demonstrate proficiency with basic hardware and software-related tasks. Installing operating systems, assembling and disassembling a computer, installing software, setting up small networks, connecting peripherals;
Illustrate how technology is used in a business setting;
Apply technical knowledge and skills in devising solutions to business challenges;
Analyze the effectiveness of various technologies in a business or information technology scenario; and
Explain and apply professional and ethical behaviour promoted by international computing societies, such as ACM and AITP.