Graduate Pathway in
Graduate Pathway in Global Public Policy
INTO Suffolk University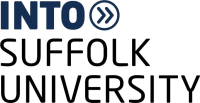 Scholarships
Explore scholarship opportunities to help fund your studies
Introduction
Graduate Pathway
Our Graduate Pathway program will give you the academic foundation and essential language skills to successfully move on to your master's degree. You'll receive the highest level of support throughout your program, including personalized academic advising.
Graduate Pathway in Global Public Policy
An INTO Suffolk Graduate Pathway program in Global Public Policy will prepare you to enter your next semester of a master's degree program at Suffolk University.
Upon successful completion of an INTO Suffolk Pathway program and meeting university requirements for graduate admission, students may enter their second semester of graduate study at Suffolk University. This transition from an INTO Suffolk Pathway program to a university degree program is called progression.
Course features
Develop your knowledge and skills through active learning in your chosen subject area.
Guaranteed university placement for all successful students.
Adapt to studying in the US with a strong focus on study and research skills.
Improve your English level and develop the vocabulary for your chosen degree subject.
Students have the opportunity to apply their knowledge and skills through internships after completing coursework.
Want to customize your studies to suit you? We'd love to see you on campus, but if you are unable to travel, our flexible learning options allow you to start your degree right away, wherever you are, on-campus or online.



No matter where and how you study, we guarantee the same high-quality programs and faculty and the same outcomes.



When you're able to join us in person, we'll make the transition to on-campus learning as smooth as possible, supporting you every step of the way. And with our partner universities carefully following COVID-19 regulations, we'll always put your health and wellbeing first, so you can focus on what matters – your future.