Certificate in
Certificate in webdesign: title rncp of level iii
ITECOM Art Design Paris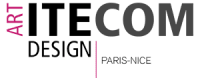 Scholarships
Explore scholarship opportunities to help fund your studies
Introduction
Title III RNCP level recorded at the National Directory of Professional Certification.
Training available:
Initial training
Continuing education
linked training (professional contract)
VAE (Validation of acquired experience)
In order to best ensure their employability in the digital, web ITECOM training prepares students for the design and implementation of interactive websites.
They define, plan and prepare a graphic to design a visual identity quality.
They structure the ergonomics and the general architecture of a website.
They realize the different communication media using dedicated software (graphics, videos, motion) and contribute to their integration in programming languages.
Anxious to meet the standards, the responsive-design and taking account of accessibility, they are sensitized to natural SEO.
Thus, this training is based on three fundamental pillars: design, graphic design, integration.

Opportunities
Multimedia Designer
Web Graphic Designer
Junior Art Director
Webdesigner
Project manager IMM
Flash animator
Project Manager
Activity area
Web agency, Communication agency, Advertising, Publishing, Printing ...
Training Program
Design and creative approaches
Web Production and Integration
Production and graphic tools
net marketing
Motion Web Design
software
Photoshop, Illustrator, Flash, Edge animate, After Effects
languages
HTML5, CSS3, jQuery, Javascript, Actionscript, PHP / mySQL
Configure and / or adapt WordPress content management systems
Admission to school
Bac + 1 or equivalent and / or 1 year of computer graphics - File & maintenance (presentation of personal work) To access this training, the student must have knowledge of desktop publishing.
Title recorded in RNCP (national directory of professional certification) under the number 18138 (ministerial decree published in the Official Journal of 30/01/2014).