Postgraduate Certificate in
Postgraduate Digital Storytelling
KASK & Conservatorium / School of Arts Gent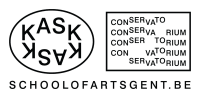 Scholarships
Explore scholarship opportunities to help fund your studies
Introduction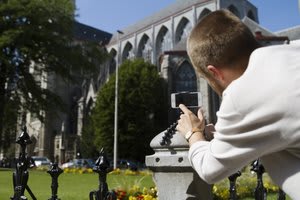 The English-taught postgraduate digital storytelling is a programme aimed at the storytellers of tomorrow, creatives who wish to present their projects or themselves as makers using audio, video, photographs and text (or mixed media) through YouTube, Medium, Vine, Instagram, Snapchat and other social media. Everyone who already writes text, who creates audio, music, photographs, videos or art and wants to share a creative story online, is invited to come and specialise in online storytelling and create online media for social media. The programme is open to all students who are in the possession of a bachelor or master diploma.
Obviously, it is recommended to already have a general understanding of audio, video etc. It is however not a requirement. We organise weekly coaching sessions to teach you these skills. A commission will give you advice on the basis of an informal talk It is they who decide whether or not you are eligible to enroll.This postgraduate programme will help you refine your skills in storytelling, in finding and reaching an online audience, and sharpen your digital proficiencies. You will be trained to create and spread your story using the newest media tools, such as Vine, Instagram, Snapchat, Periscope, Boomerang, or as longreads, podcasts, vlogs and so on.
The programme takes up a single academic year and consists of 39 ECTS credit points, divided over six training modules: Digital Storytelling and Digital Media Production, Digital Storytelling in Audio, Video, Photo and Text, Digital Publication and Design, Digital Influence, an internship and a graduation project. The first four combine lectures with practical assignments that you work on during studio time. The last two comprise extremely useful and extensive practical assignments: under the guidance of a tutor, you will develop a project that provides an answer to a realistic issue that can come from any number of societal sectors. Individually or in a small group, you will intern in Belgium or another country. Finally, you will develop your own personal graduation project under the guidance of professional media coaches.
Classes take place Monday and Wednesday evenings from October till March. From then on you start working on your graduation project and you do an internship. On Thursdays you work together with other students from October till the end of the year. Every week there are assignments that equal a day's work more or less. During the year there are no less than 10 of these. The tuition fee for 2016-2017 was 2.500 euro.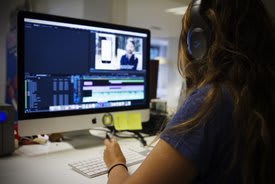 The programme is taught in English. There's an online motivational talk and an intake. There is a high demand for professional digital storytellers, which comes as no surprise, as stories are perfectly suited to conveying a message. This is a highly practical training. Having completed it, you are ready for the creative digital media sector. It will not take long before every company will be relying on digital storytellers to convey their stories. Mostly, these storytellers are digital influencers.
Graduates of our porgramme are now professional media makers, either in their own media production companies, as content specialists for larger organizations or creating their own artistic stories for an online audience. If you have any questions, please contact Pieter Blomme ([email protected]) who is the programme's coordinator. This postgraduate programme is a collaborative initiative of KASK School of Arts and REC.
Teachers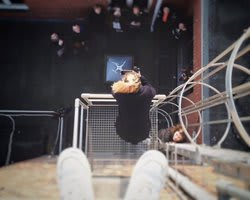 Sjoerd Raaijmakers (COO VICE Media Benelux),
Jessica Abel (comics artist & storytelling expert, Out On the Wire, USA),
Kenny Vermeulen (Blogger/Influencer, Nonunsenses, BE),
Elien Jansen (photographer & instagram influential, BE),
Yves Das (Vine artist, Looping Tales, BE),
Wim Forceville (VR-expert, Fisheye, BE),
Chris Klapwijk (YouTube Partnerships Manager, YouTube, UK),
Sigrid Dufraimont (digital marketing consultant, Cheesecakemedia, BE),
Hannes Coudenys (Digital Hustler, YouTube- & Snapchat-king @Club Social, BE),
Cristal Die (Instagram-professional, CrystalDie, BE),
Joke De Nul (Social Media Helper, Community Manager, BE/FR),
Maggie Beidelmann (senior producer en video journalist AJ , USA), Hotel Hungaria (BE),
Matt Heiman, Dave Jackson en John Babb (Videoproducers Diagonal View, UK),
Sandra Gaudenzi (!F Lab, Universiteit van Westminster, i-Docs, UK).
Bert Dries (aka Musketon) (graphic designer, Musketon, BE)