Foundation Year in
Foundation Program Tech
Modul University Vienna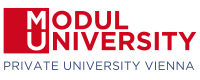 Introduction
Why should you choose a Tech Foundation Program?
This carefully designed foundation program is a pre-requisite for the BSc in Applied Data Science at Modul University Vienna or other data science study programs across Europe. In addition, our program can be used by students who may not have experienced an introduction into data science or programming, despite feeling a connection to the subject. Topics covered in the semester program include Business Communication, Mathematics, Calculus, and Basics in Computer Programming.
Curriculum
Program Organization
Courses will be conducted on the Kahlenberg campus in Vienna and online. You can choose to attend all courses online in Central European Time (CET) if you can not make it to Vienna. Sessions are organized from Monday to Friday following the academic year.
Educational Methods and Approach
During your semester at Modul University Vienna, you will be able to experience an Austrian campus and learn from international teaching staff. By attending classes you will listen to lectures, participate in seminars, and work on presentations with classmates. You will be taught the basics of Computer Science and Programming. In order to achieve your certificate at the end of the semester, you are expected to pass quizzes and present small projects.
Your courses in the Foundation Program Tech:
Basics in Computer Programming
Calculus
Business Communication
Mathematics
Career Opportunities
What to do after our Tech Foundation Program?
If you master the Foundation Program Tech and receive the final certificate you are enabled to start the BSc program in Applied Data Science at Modul University Vienna without going through the full admissions process. Students that want to study at a different school or university may benefit from the knowledge gained at MU, Austria's leading international private university.