Courses in
Course in RESERVE COMPONENT NATIONAL SECURITY
National Defense University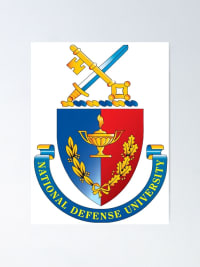 Scholarships
Explore scholarship opportunities to help fund your studies
Introduction
The Reserve Component National Security Course (RCNSC) is a two-week seminar offered to senior officers and non-commissioned officers (E8-E9) of the U.S. Reserve Components, allied officers, and select civilians working in national security. The RCNSC is designed to lay a foundation for students moving on to joint command management and staff responsibilities in a multinational, intergovernmental, or joint national security setting. The curriculum consists of lectures, panel discussions, seminars, a Capitol Hill visit, and a simulation exercise dealing with national security policy and defense resource management.
RCNSC is held three times a year at the National Defense University.
The future operating environment requires leaders to have the capacity to operate at the Strategic level, in addition to the Operational and Tactical levels. To do so, our leaders must have the training, education, and experience to meet those demands. RCNSC is the venue where services can continue to provide strategic-level education to Reserve and National Guard leaders.
Course Content:
National Security Strategy
Resourcing for National Security Strategy
Regional Briefs
Information Technology and Security
Homeland Security
Political-Military Simulation Exercises
Diplomacy
The Legislative Process
The Legal Aspects of The Long War
Global Economics
Security
Strategic Communication
Interagency Operability
Benefits:
Provides graduates 2 Joint credits toward Joint Qualification.
Provides a foundation for students to serve in a multinational, intergovernmental, or joint national security setting.
Provides lectures from world-class speakers, published professors, leaders in government and military.
Provides interactive panel and seminar discussions with other senior leaders in a non-attribution environment.
Provides interaction with government officials during a Capitol Hill visit.
Provides an immediate, actionable simulation exercise and national security policy scenario that allows students to act on newly acquired knowledge.
Provides opportunities to network with senior leaders.