Associate of Arts in
Associate of Arts Degree - Media Arts
San Jose City College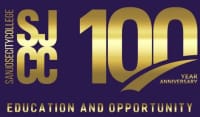 Introduction
The Media Arts program is a unique, interdisciplinary approach to the converging fields of journalism, communication, and new media technology. It responds to the need for people skilled in effective communications in all levels of society including industry, education, art and music, and the public arena.
The degree in Media Arts provides a core foundation of media and visual literacy, a foundation of technical skills, and principles of design and information hierarchy, as well as specialization skill development in Information gathering and reporting in journalistic formats, visual and photojournalism concepts and skills, and application of theory and skill to journalistic practice. A grade of "C" or higher is required in all certificate and major required courses.
Upon completion of the program students will be able to:
Create digital projects that demonstrate an understanding of the formal elements and principles of design.
Communicate an idea through digital projects by skillfully using materials and techniques to achieve the desired effect.
Develop a balance of technical ability and design skills which together enrich the appreciation of making and viewing digital art.
Recognize and list major historical benchmarks and trends in the development of digital art, and place digital art in a contemporary context.
Analyze the objective and subjective qualities of digital projects in order to evaluate and assess their worthiness.
Major Requirements
ART 072 Computer Graphics - 3 units
ART 079A Web Design 1 - 3 units
JOURN 021 Mass Media and Society - 3 units
JOURN 022 News Writing and Reporting for the Media - 3 units
PHOTO 076 Photoshop 1 - 3 units
In addition to the journalism and photo courses, students are required to take a publication laboratory class for a minimum of 3 units choosing from one of the following publication laboratory classes:
JOURN 032A Media Production 1 - 3 units
JOURN 032B Media Production 2 - 3 units
JOURN 032D Newspaper Lab – Production and Design - 3 units
A.A. Degree Requirements
Major Requirements - 18 units
General Education Requirements - 39 units
Physical Activity - 1 unit
Total Required Units - 60 units
Career Opportunities
Career Options
Web Designer
Video Producers
Photo Journalists
Graphic Designers
Animators
Illustrators