Postgraduate Certificate in
Post-Graduate Certificate in Cloud Computing and Blockchain
Saskatchewan Polytechnic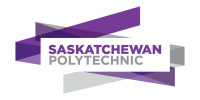 Introduction
The post-graduate certificate in cloud computing and blockchain will prepare students for the challenges of evaluating the feasibility, designing, and implementing cloud-based solutions that fulfill the requirements of specific business cases. Additionally, the program content will provide students with the cognitive and technical skills to evaluate blockchain technologies beyond cryptocurrencies. Therefore, they can design and implement blockchain-based solutions.
The program content is based on the expectation that students will have developed necessary digital-literacy skills, such as online research, sharing information to create knowledge, and being responsible online, among others, in their undergraduate information and communication technology degree and that the Cloud Computing and Blockchain post-graduate certificate program will enhance their existing knowledge and skills.
Students will study cloud computing in the following fields:
provision of cloud computing, storage, and networking resources
security of cloud-based solutions
migration of on-premises systems and databases
design of hybrid architectures
monitoring and auditing of cloud-based solutions
cost management and business continuity
evaluation and design of cloud-based solutions to save costs and optimize resources
Students will also study blockchain technologies in the following fields:
the role and impact of cryptocurrencies in our economy
evaluation and design of smart contracts
analysis of the deployment and operational cost of smart contracts
analysis and design of solutions that integrate on-chain and off-chain components
evaluation and design of blockchain-based solutions to provide high reliability, transparency, and fault tolerance.
The program structure allows students to experience the challenges and pressures of emerging cloud computing demands in such a way that they can develop their critical thinking to propose cloud-based solutions. The program structure also allows students to study blockchain technologies to identify the need to design solutions that integrate blockchain components.
Curriculum
Semester 1
CCMP 600 Fundamentals of Cloud Computing
CCMP 601 Fundamentals of Blockchain
CCMP 602 Provisioning and Security of Cloud Resources
CCMP 603 Introduction to Smart Contracts
TCOM 600 Business Technology Communications
Semester 2
CCMP 604 Orchestration of Cloud Resources
CCMP 605 Cloud Data Management
CCMP 606 Integrated Services Using Smart Contracts
DEVP 600 Business Innovation with Development Operations (DevOps)
PROJ 611 Adoption of Cloud Computing and Blockchain Technology in the Industry