Summer courses in
Summer Course: International - EU Affairs and French Language
Sciences Po Lille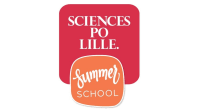 Introduction
The 2023 summer school edition offers an innovative program around 4 tracks:
International - EU Affairs
You will focus on International and European affairs, including issues such as the Eurozone challenges, European identity and values, migration, and international justice as well as on French society and politics. You will also get some understanding of the contemporary aspects of French society.
-Rethinking the European Union
-International justice: Policy and Practice
-Challenges of international law, a French perspective
-Religion in the migration experience: from state policies to family strategies
French Language
This course aims to develop students' ability to demonstrate some understanding of the French language, as well as speak, read and write French with relative proficiency. In small groups, students will gain fluency in French while increasing their knowledge of France. Professors will help students to develop their communication skills through class discussions, one-on-one conversations, role plays, and oral presentations with classmates. Before your course starts, you will be tested to join the appropriate group and enjoy live sessions.
Please check out:
https://secure.webpublication.fr/87619/1806681/#page=1