Summer courses in
Summer School
University Bocconi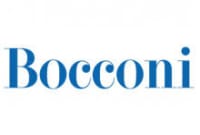 Scholarships
Explore scholarship opportunities to help fund your studies
Introduction
Summer School
Start making plans for this summer!
If you're interested in further developing your passion for business and economics by taking part in a life and learning experience on leading-edge subjects, you can do so right in the heart of Milan.
Bocconi Summer School offers a selective study program, entirely taught in English, open to motivated students. It's a unique opportunity to participate in an exciting laboratory of teaching and experiential learning.
Courses are held in innovative multimedia spaces with teaching materials and tools available to you online at any time. To keep you anchored to the real world, each course curriculum includes company visits and teamwork on real-life business cases and situations, putting to the test your problem-solving and soft skills and creativity. The courses' emphasis on working in teams will allow you to meet, socialize with and learn from carefully selected bright and dynamic young people with a lot of talent to share.
Of course, you and your classmates will also have a great opportunity to build some memories in Milan and Italy in your free time. Whether you like the sea, the mountains, art, history – or ravioli and rap – there is a lot to learn, and not all of it in books.
High School Students
2 weeks
10 subjects to choose from
300 high school students
24 lecture hours
2 company visits
2 project presentations
soft skills workshops
International BSc University Students
3 weeks
7 courses to choose from
210 undergraduate students
36 lecture hours
12 tutoring and group working hours
6 credit points recognized